Last month was one of the most powerful breakthroughs Kids Wealth International Club has experienced. With our Ribbon Cutting with Mayor Pradel in Naperville and the expansion of our new KWIC Minds, our company is significantly growing. I'd like to say that when running a success culture company with a vision which my KWIC Team shares, that stars align and everything goes smoothly. I mean, who doesn't want to empower kids to a healthier financial future? 🙂 And with my passion to teach kids about finances and entrepreneurship, all "should" go well. However, as most of you may know, running a business isn't that easy.
What matters most is your WHY. Most people don't succeed because they don't have a big enough why. So when the challenges arrive, they give up so easily. Or even worse, they give up when their company is about to reach exponential growth. It takes time to cultivate a success culture. It takes diligence to implement the things needed to monetize a business. And it takes the right organized knowledge to implement. You have probably heard the saying "practice makes perfect." It is actually "perfect practice makes perfect."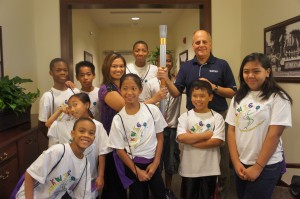 As I've watched the Olympics this past week, I wonder what those competitors are thinking to themselves. They, too, have their why and their passion and love of the game. They, too, have coaches like me to push them to grow, keep them accountable, and be successful. They, too, are diligent in their perfect practice. They, too, implement with calculated risks. They, too, take opportunities when they see them. It takes a winner to be in the Olympics. And that's what our KWIC Kids are…WINNERS! They have played full out in our KWIC Money Camp to learn and better themselves. They are practicing the financial skills they have learned to be better managers of their money and financially responsible. They took the opportunity to go on our bank tour during our camp. Hence, they were prepared and rewarded with the opportunity to hold one of the 1996 Olympic torches held by the President of Naperville Bank and Trust, Tom Miers, who just happen to bring the torch into the bank that day. What are the chances for these KWIC Kids to be at the right place at the right time!?!
Now, I just didn't learn all of these wealth principles overnight. I started mentoring with experts in finances and business over 10 years ago. So as I was teaching the KWIC Money Camps this past month, I have am certain that those KWIC kids' lives have changed forever. People ask, "Aside from how to make, manage, and multiply money, what else do the kids learn?" Here are the Top 5 Values your kids will learn in our KWIC Camps:
1. Self-esteem: Studies show that 80% of your child's belief system is established by age 8. By teaching kids about wInner beliefs, the kids understand how to build self-confidence and inner wealth. This is how my daughter Jardel was inspired to write her own book at age 7, "My wInner Self: How to be a winner from the inside out."
2. Leadership skills: Stedman Graham focuses on identity, and his first step of finding your identity is Leadership. Kids Wealth International Club is focused on creating leaders of children so that others will not identify who they are for them and put them in a "box".
3. Teamwork: Kids these days are so competitive. They are taught in school that helping each other is "cheating". We teach kids how to rise people up because with a Team, Together Everyone Achieves Miracles.
4. Relationships: The quality of your life is directly proportionate to the quality of your relationships and the commitments you keep within your relationships…especially your relationship to yourself.
5. Fun: Kids Wealth International Club's tag line is "Helping your kids get rich in a fun way." When I say rich, it encompasses all aspects of wealth. When I say fun, our KWIC Team understands that your kids learn best when they are experiencing fun. Most financial literacy programs don't understand this, and I've watched teachers struggle to keep the kids' attention and retention. We don't have this problem at our KWIC Camps.
Take these principles and apply them into your own lives and your kid's lives.
Check out our new KWIC Minds, where your kids go out into the real world and apply the concepts learned from our KWIC Camps. You as the parents will also learn more on raising wealthy kids through our webinars. Click HERE.
Tweet